Diagnostics
5 Ways to Enhance Your Practice with Ellie
Discover the Ellie difference by following these 5 simple steps. It's time to rethink your diagnostics.
---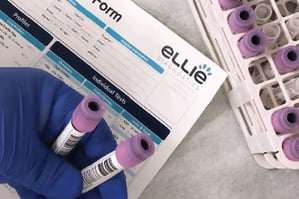 Here at Ellie, we recognize that owning and operating a veterinary practice, though rewarding, takes hard work and commitment. Your diagnostics lab shouldn't add to the daily stress of running a clinic – you deserve to work with partners that are flexible and accommodating. Ellie Diagnostics is a full-service reference laboratory that puts our clients' needs first. We pride ourselves on our top-notch, personalized approach.
1. We'll integrate your system
We want to make the Ellie transition seamless for your team. Whatever software system works best for your practice, let us know and we'll integrate it. Ellie also offers complimentary code creation in the PIMS to further simplify the process for clinic staff. Our friendly customer care team will be alongside you every step of this procedure to address your questions.
2. Tailored sample pickup
Our goal at Ellie is to make your day-to-day easier. With our customizable logistics, we'll collaborate with your team to discover what the most efficient sample transportation option is for your clinic. Major benefits of our sample pickups include:
A dedicated Ellie Diagnostics representative to contact directly with any questions or concerns about your pickup and delivery so that you're not waiting on hold with the transportation companies. Our team has excellent relationships with our logistic partners and can get updates quickly.
Sample supplies and shipping are complimentary.
You'll have access to several pickup options and optimal pickup times depending on the needs of your clinic, including UPS and local couriers.
Client pickups are monitored closely. We want to make sure that this process is easy and efficient for you.
You know better than anyone that lab results need to be lightning fast. Our team is committed to ensuring this happens each day.
3. Industry-leading Wellie Report
Our Wellie Report is designed with your clients in mind. It provides a concise, easy-to-read overview of the pet's Wellie Profile. Used to compliment the advice veterinarians give, clinics across the country value the innovative tool that demonstrates proof of the pet's wellbeing based on their lab results. Your clients will appreciate this unique, thoughtful touch after each appointment!
4. Dedicated client support
Amazing service is our #1 goal here at Ellie and our customer care team is invested in ensuring your clinic's experience with us is unbeatable. We have friendly representatives that can provide support throughout the day with any questions you may have. Ellie prides itself on having one phone number. You call, we answer. Rest assured that you will be talking to a person each time you call – no phone trees. We want to save you time and get you answers fast.
5. Easy-to-use portal
Your customizable portal is where you'll go to place orders, view results, and request supplies. We understand that no clinic is the same. Our portal allows you to choose and order exactly what items you need. During the onboarding process, each clinic receives an interactive team training that reviews how to maximize the Ellie portal along with step-by-step instructions on how to navigate it. Clients have given great feedback on this reliable feature that we provide.
At Ellie, we put our clients first so that you can put your customers first. Whether opening a new practice or needing to enhance your current one, Ellie Diagnostics is committed to providing a reliable and efficient way to make the transition. Be confident in knowing that our customizable services will ensure that you're receiving everything your clinic needs, while making your practice's day-to-days easier on you.