Join the Ellie Community!
Switching is easy – we'll do all the work
Book a Consultation to Learn More About Ellie!
Select a date and time below to schedule a quick virtual Teams consultation with an Ellie expert
1. Receive your starter kit

2. Integrate your system

3. Interactive team training

4. Dedicated client support
We'll send you a personalized kit to get you started.
Free shipping and supplies delivered right to your clinic

Enjoy a customized welcome box - made just for you
Enhance your clinic's lab workflow with Ellie's software integrations.
AVImark

Cornerstone

ImproMed
If you are using another software, let us know and we'll do all the work to get you set up on your system.
Learn how to maximize Ellie's services.
Meet your personal Ellie Diagnostics account representative

Explore our customizable, easy-to-use portal with step-by-step instructions on how to navigate it
You call, we answer.
Our friendly customer care representatives are available throughout the day to answer your questions

Ellie only has one phone number - no phone trees
"Your team made our transition effortless despite the complexity of our software system and the need for seamless integration with our medical records. It is refreshing to experience such exceptional value without compromising quality, service, and convenience. Also, an unexpected level of savings that has given us the opportunity to provide more for our treasured team members – for this we are most grateful!"
Specialty Hospital Solutions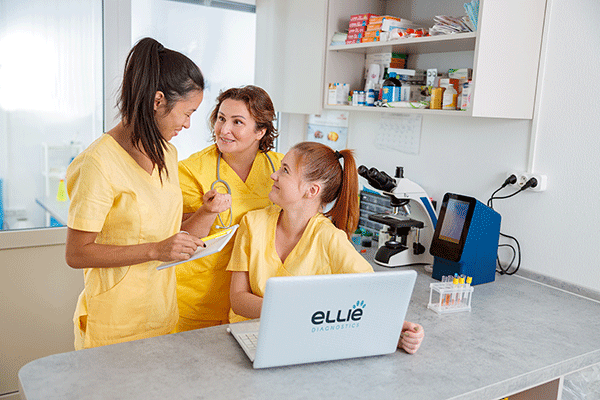 Frequently Asked Questions
How are tests ordered?
Order from our advanced Ellie portal, paper requisition, or directly in your PMS (call us about an integration).
How would I request a specimen pickup?
Call us for will-call pickups, or request a daily route to be set up for your clinic. We use UPS and local courier services. Ask us what's available in your area.
How would I get results?
Your rapid results will be located on the Ellie Portal, along with our industry-leading Wellie Report that will impress your customers. You can also receive results by email, fax, and/or set up an interface with your PMS.
How do I order supplies?
Our supplies are complimentary. Order your supplies on the Ellie Portal or simply give us a call and we'll place the order for you.
Do you have clinical consultations?
Ellie clients can call to request a complimentary consultation and you'll get a call back within 24 hours from a board-certified pathologist or internist.
What makes you different from other corporate labs?
Where do we begin?!
We are independently owned so we have the flexibility to customize our services based on your needs.
We make the transition to Ellie easy, because we know your staff is short on time.
There are no minimums or contracts.
Our industry-leading Wellie Report provides customer engagement to help drive annual wellness programs.
Our cloud-based Ellie Portal and software integrations helps protect your lab data.
Our high-quality precision lab tests are up to 30% lower because of our low overhead.
When you call, our award-winning customer care team answers to take care of your needs so you can quickly return to caring for our pets.